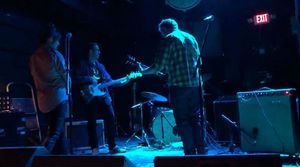 Bio
Tracksuit is an indie-rock band based out of Chapel Hill, NC. The band is made up of songwriter/multi-instrumentalist Brendan Rice, bassist Tyler Harrington and drummer Marcus Johnson. Blending expressive, layered baritone vocals over fuzzed out guitars, spaced out synths, lush violins, lilting keys and driving bass and drums, Tracksuit's music is emotive, textured and melodic.
In 2017 Brendan Rice was booked to play the main room at the legendary Cat's Cradle for the Carrboro Music Festival, but didn't have a band. He reached out to  old collaborators Tyler Harrington (bass) and Marcus Johnson (drums), who had both recently relocated back to the Triangle area after being gone for several years. Along with a few other local musicians friends rounding out the line-up, they quickly formed the short lived 'Brendan Rice & the Hired Guns'. The three old friends enjoyed the experience so much they decided to continue playing together, working on new material and Tracksuit was born.
During the spring of 2018, the band went into the studio with engineer Nick Petersen (Bon Iver) of Track & Field Studios in Durham, NC to record what became their debut album, 'Shadow Box'. Released in December of 2018, 'Shadow Box' is an inviting set of ruminative songs that at times is reminiscent of Andrew Bird (Fireflies), Neil Young & Crazy Horse (Dream of the Blade) and Morphine (Wide Awake). Allison Zirkel (Shoeldiggers, Scarlet Rider), contributed hushed vocal harmonies and piano to several tracks, adding to the lush sound of the album. . They appeared live on WCHL 97.9 fm for an interview and musical performance after the station added their single "Chasing the Wind". The album was also picked up by NC TRACKS Music Library to be included in their curated streaming service. 
Their sophomore release, 'Hidden Worlds' -due out summer of 2022- expands upon their earlier sound with more of a focus on Rice's expressive baritone vocals. Written and recorded during the height of the pandemic, the new songs see the band pushing their sound to exciting new places with more sophisticated arrangements, diverse instrumentation and use of layered vocals. The album features musical contributions from saxophonist Dana Colley of "low rock" pioneers Morphine and harmony vocals from platinum selling artist Katherine Whalen (Squirrel Nut Zippers). It was mixed and mastered by Will Holland (Pixies, New Pornographers) at Chillhouse Studios in Boston, MA. 
The first single from the album, "Area #51", will be released worldwide 6/17/22.
                                                BACKSTORY...
Brendan Rice originally met Marcus Johnson years ago when they were co-workers together at the late, great Chapel Hill institution Pepper's Pizza. It didn't take long before their mutual love of music led them to collaborate together in the piano driven, folk-rock band Scarlet Rider led by pianist/vocalist Allison Zirkle (https://soundcloud.com/scarletrider). Rice first met Tyler Harrington when they both played in the former indie-rock band Mingus Young, Harrington on bass and Rice on guitar and violin (https://indyweek.com/news/archives/week-december-6-~-10/). Harrington and Johnson also both served as part of Rice's live band when he released his solo album, Death of the Toy Soldier in 2008 (https://brendanrice.bandcamp.com/releases). 
All three band members graduated from UNC Chapel Hill with degrees in the social sciences - but never ended up attending at the same time. After graduating from UNC, Harrington moved to New Orleans to get his Master's in Social Work and Johnson relocated to Canada for a job opportunity after getting is PhD in Psychology. Meanwhile, Rice got married and took a break from gigging, releasing music and doing studio work as a session violinist to attend graduate school at UNC, where he also studied Social Work. 2016 saw both Harrington and Johnson return to the Triangle area allowing the three friends to reunite.